Pisstol Pockets ®
Dog Pants for Males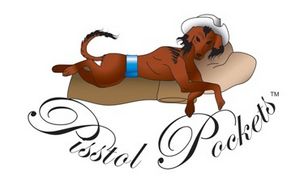 Pisstol Pockets® were created with the sighthound physique in mind. The Pisstol Pants® are embroidered with a fun design on both sides. The design can be seen from either side of the dog when worn.
The dog pants are constructed with denim or khaki colored material. The khaki material is either washable ultra suede or other similar attractive material available. The inside lining consists of soft flannel. Between the flannel and outside fabric, there is a layer of PUL (polyurethane laminate) to waterproof the pants.
Elastic and hook and loop tape help ensure the dog pants stay in place on the slim physique of our sighthounds.
Shop our online store now for in stock dog pants for boys. If you wish to choose your own design and material, click on the link below the photos.